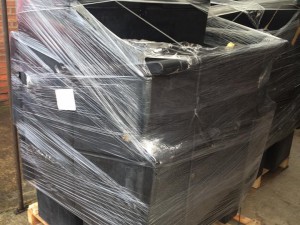 We can supply as many grit bins as you may require for your site - we provide a free site visit and can advise how many you will need for staff walkways or car park gritting over the cold period. Take your pick! We can supply black/black recycled grit bins black with a yellow lid/yellow with a black lid/green/red/all yellow with or without locks! 200 ltr capacity to 400 ltr capacity, with or with out grit! Manufactured from UV resistant polyethylene and is ideal for both residential and commercial use.
The grit bins features an angled lid has grit embossed on to the bin and is heavy duty.
Call us for a free quote !